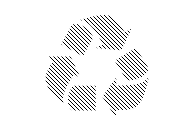 Why

Recycle?
Saving The Environment, One Cartridge At A Time.
Every year, millions of reusable laser toner and ink jet cartridges end up in our nation's landfills. Tech Optics collects these reusable materials and recycles them to produce premium quality replacement products.
Why Recycle Cartridges?
OEM-Compatible cartridges use 80% less energy than making new ones. A typical cartridge takes 1,000 years to decompose. Each laser cartridge consists of 2.5 lbs of plastic, along with rubber, steel and aluminum. Every year, nearly 400 million cartridges are thrown away — if placed end-to-end, they would stretch from California to Florida. Get Started. Go Green. Help save the environment.
Recycle your ink jet cartridges and laser cartridges. With your help, Tech Optics can continue to save these resources from landfills and give the financial and environmental benefits back to our communities. We provide FREE materials, shipping, handling and reporting. Contact us today to learn how our network of representatives can help you start recycling.
Available Collection Materials — Call 888-257-6092 to order today.
Laser cartridge collection materials are also available. Contact Customer Service for more information.